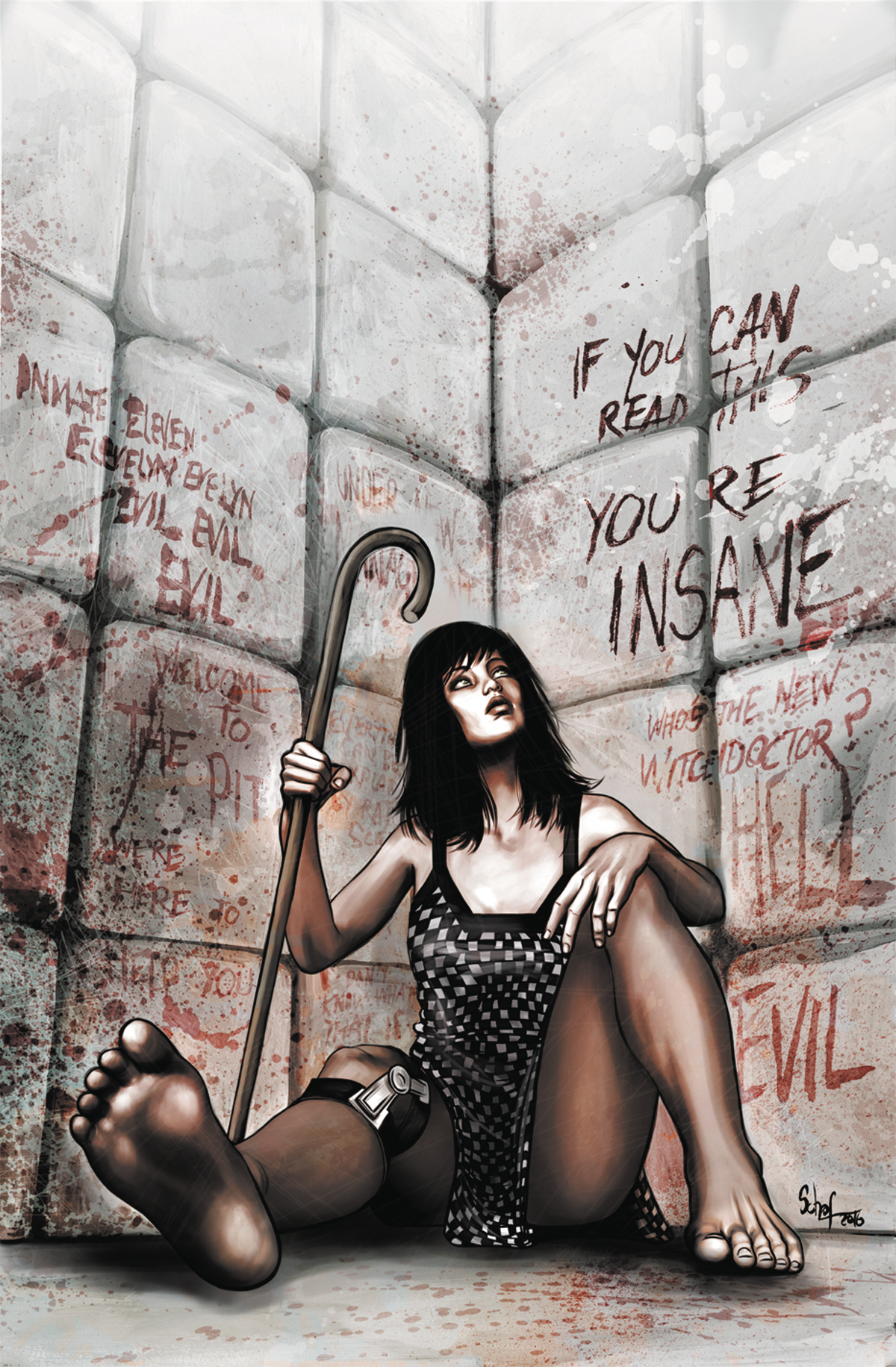 This past week I was lucky enough to get my hands on a few issues of the wonderful horror comic, Malefic. Malefic comes from the people at 1First Comics. Written by Dan Schaffer and illustrated by David Miller.
Young Doctor Freust is a therapist in an asylum of horror where each deranged and diabolical inmate has a paranormal neurosis and a homicidal glint in their eye. Out of her depth, Freust must discover the techniques pioneered by her father, leader of a secret religious cult, if she has any hope of surviving the madness.
After having her own psychiatry career ruined by a sex scandal, young Dr. Evelyn Freust ends up in an old asylum, affectionately known as The Pit. Her father, the leader of a fanatic religious called called The Church With No Name, has just died, and Evelyn is chosen to be his successor.
The elder Dr. Freust did not have an ordinary practice. He practiced parapsychiatry, which blends elements of psyhciatry and parapsychology. Evelyn does not seem to share her father's belief in such supernatural phenomena, at least at first. After finding a pair of glasses that seem to let her stare into the soul of her patients, she begins to come around. With the help of her only ally in The Pit, known only as The Nurse, she begins to become acclimated with the true sinister nature of the inmates, err, patients, of The Pit. After ignoring The Nurse's warnings concerning a particular patient, Evelyn is informed she just began a game with the devil that she cannot win.
Issue #1 of Malefic is setting itself up to be a very well done introduction to the series overall. One thing that stuck out to me over the course of the 30 or so pages of this comic is how much information is packed into it, yet it doesn't feel rushed or lacking in any details.
The art is magnificently done, with the black and white theme doing much to create a sense of dread. There is a much welcomed sense of uneasiness that comes from the connection the reader has with the various characters portrayed thus far. It is quite certain no one is to be trusted, and this fact coupled with the overall creep factor of the setting definitely leave me wanting more.
Definitely be on the lookout for my review of the second issue of 1First Comics Malefic!